A victory over NordicBet Liga side HB Køge required a little more than previous friendlies, but in the end, FC Helsingør kept it crown.
HB Køge was well-organized and shut down Helsinør in front of goal through the first minutes of the match. After about 15 minutes, Nicolas Mortensen saw the first big chance of the match when he attempted a lob over HB Køge's goalkeeper, but the ball flew over the bar.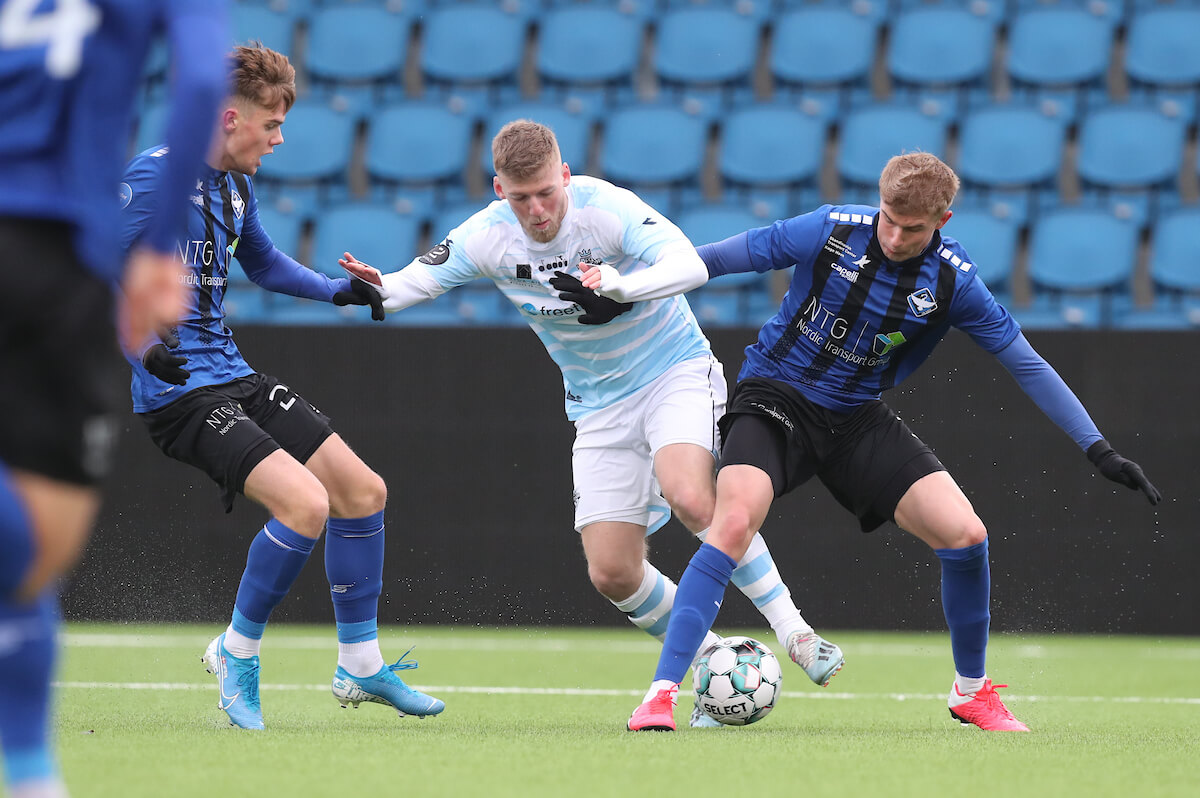 After 25 minutes, Køge lit the scoreboard first. With a free kick lined up just outside of the box and a centered ball floated onto a soft header, the ball drifted just over Kevin Stuhr Ellegaard in the FCH goal.
0-1 HB Køge
The goal appeared to be just want Helsingør needed, firing up the home team, which reacted with several good chances before half-time. Daniel Norouzi launched a long-distance shot and Chris Cortez rattled the crossbar. HB Køge also created opportunities for individual chances. But sharpness was lacking for both and the teams entered their dressing rooms with the score still 0-1.
In the second half, FC Helsingør clamped down for a tighter grip, and it was just after 50 minutes when Lucas Haren forced HB Køge's goalkeeper into a save. Moments later, Haren put the ball high into the goal past the goalkeeper in the 54 'minute.
1-1 FC Helsingør
After just over an hour of play, Køge forced Stuhr Ellegaard into a pair of reflex saves. On the other end, it was Helsingør who would lead just four minutes later, when Haren found Nicolas Mortensen, who finished the go-ahead strike.
2-1 FC Helsingør
The second half saw substitutions aplenty from both teams. Jeppe Kjær, TK, Carl Lange and Elijah Just all came on shortly after the FCH goal, and later Ricki Olsen and Teddy Bergqvist also entered.
With a goal in the previous match, FCH's new Swede showed his quality again after 80 minutes, putting the icer into the back of the net. A truly impressive goal form from Bergqvist.
3-1 FC Helsingør
The second half closed with a couple of big chances for Kjær, Lange, and an unbelievable opportunity for Køge to get one back, but the net wouldn't bulge again.
FCH manager Morten Eskesen was very pleased with his team's efforts:
"We met a well-organized HB Køge team that defended really well against us, especially in the first half. We had the ball a lot, but had to work to create chances. In the second half, we were more patient in our game, playing positively for more chances than in the first half. HB Køge is a good 1st division team and together with FC Taraz from Kazakhstan – who we met in Turkey – they are the highest quality team we have met this winter.
"But it was a really nice test for us to meet such a team, and to prove that we could create chances against them on the day and finish. That's what led to this win."
Thanks to "Cementen", which due to illness was our eyes and ears at the Stadium today. Follow them at https://www.facebook.com/holgershomies/
You can second see interviews with Kevin Stuhr and HB Køge coach Auri Skarbalius after today's match in there.
LINEUP
FCH: K. Stuhr Ellegaard, J. Henriksen R. Olsen), A. Holm, N. Hansen, D. Wilkins (Norouzi), L. Haren, F. Christensen (E .Just), D. Norouzi (T. "TK" Kristensen), A. Holst (C. Lange), N. Mortensen (T. Bergqvist), C. Cortez (J. Kjær)